Strangers, group exhibition Rongwrong gallery, 2022
Our collective (Mariah Blue, Amy Winstanley, Kathrin Graf, Lana Murdochy, and Younwon Sohn) studied together at the Sandberg Instituut in Amsterdam from 2017 - 2019. Since completing our Masters, we are all living in different countries, in 3 different time zones 0 (Glasgow/ Edinburgh), +1 (Amsterdam/ Bonn), +9 (Seoul) and with a physical distance of 12,959.12 km between us. Nevertheless, we are meeting each other daily through social media and every second week through video calls to continue our dialogue about daily life experience, art production, art practice and thinking. The intersections between our lives, art, friendship and conversations are a generative force in our creative process and work. We recently received funding from the prestigious ARKO international exchange fund and DutchCulture fund to make an exhibition in collaboration between Korea and the Netherlands and celebrating 60 years of diplomatic friendship between the countries. A decision to work together has led to our continual conversations which took form in the group exhibition, Strangers. It was a response to our last exhibition, Potluck, which took place in Seoul, South Korea, where we as a group touch on themes of friendship, food, nature, technology and entanglement. Strangers is an exhibition that explores relationships and the intangible and nonlinear collective histories shared through friendship and the act of making together.
SleepeelS, This Art Fair 2021
In a performance at This Art Fair, Amsterdam 2021, fictional persona, SleepeelS, presented, Roses Rest, the debut album from musical duo Bots & Gas, consisting of Alexandros Papamarkou and Mariah Blue. The album presentation was a performative action by SleepeelS as the album's promoter within the digital domain. A limited edition of ten vinyl records was released and sold at the fair as art objects alongside other art multiples (merchandise) such as t-shirts, stickers and helium balloons which were designed by SleepeelS. In the booth, she screened promotional videos while the artists, Mariah Blue and Alexandros Papamarkou were employed to work as her sales representatives at the art fair. She also hosted livestream presentations of the album for a digital audience during the fair.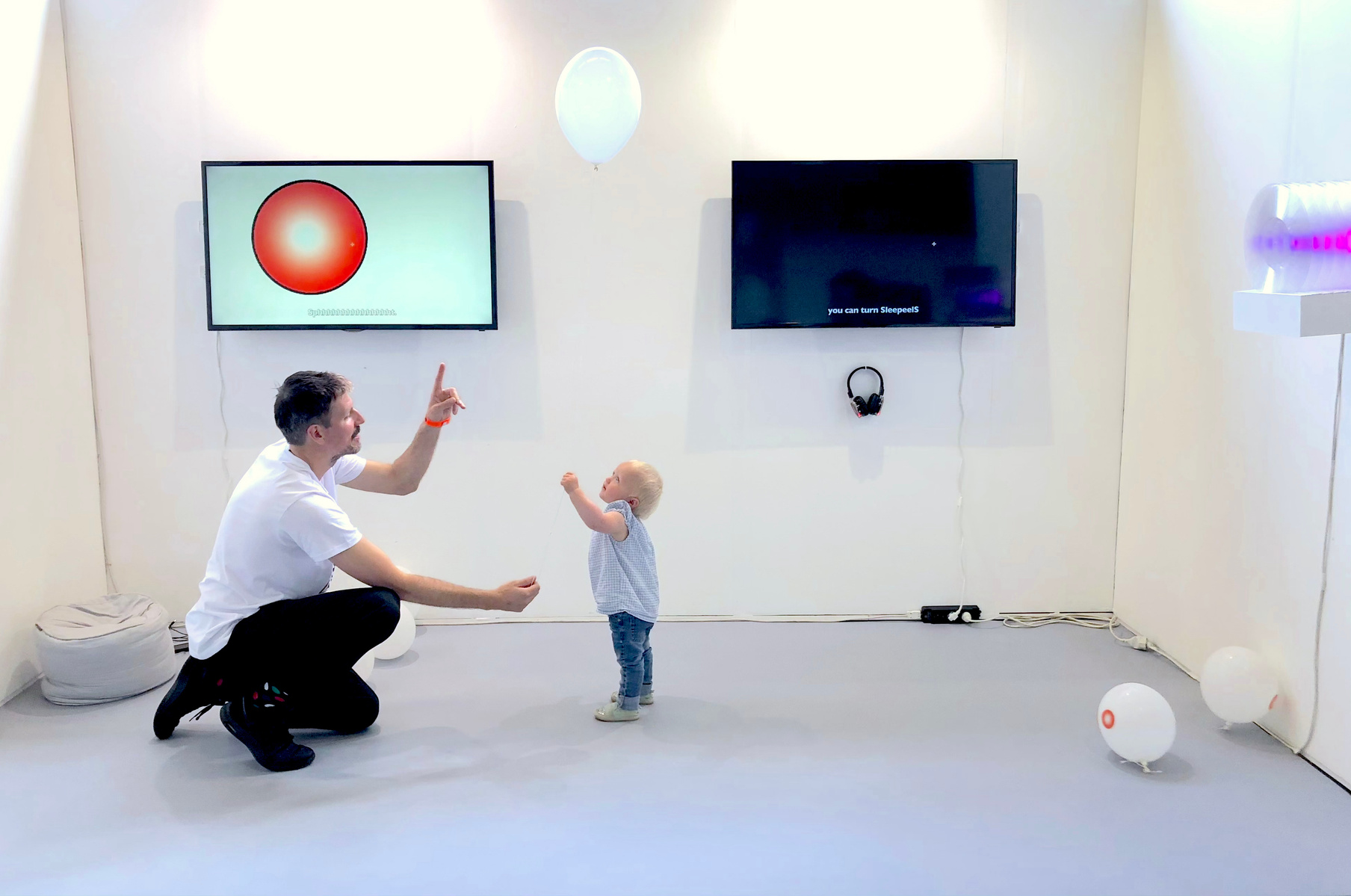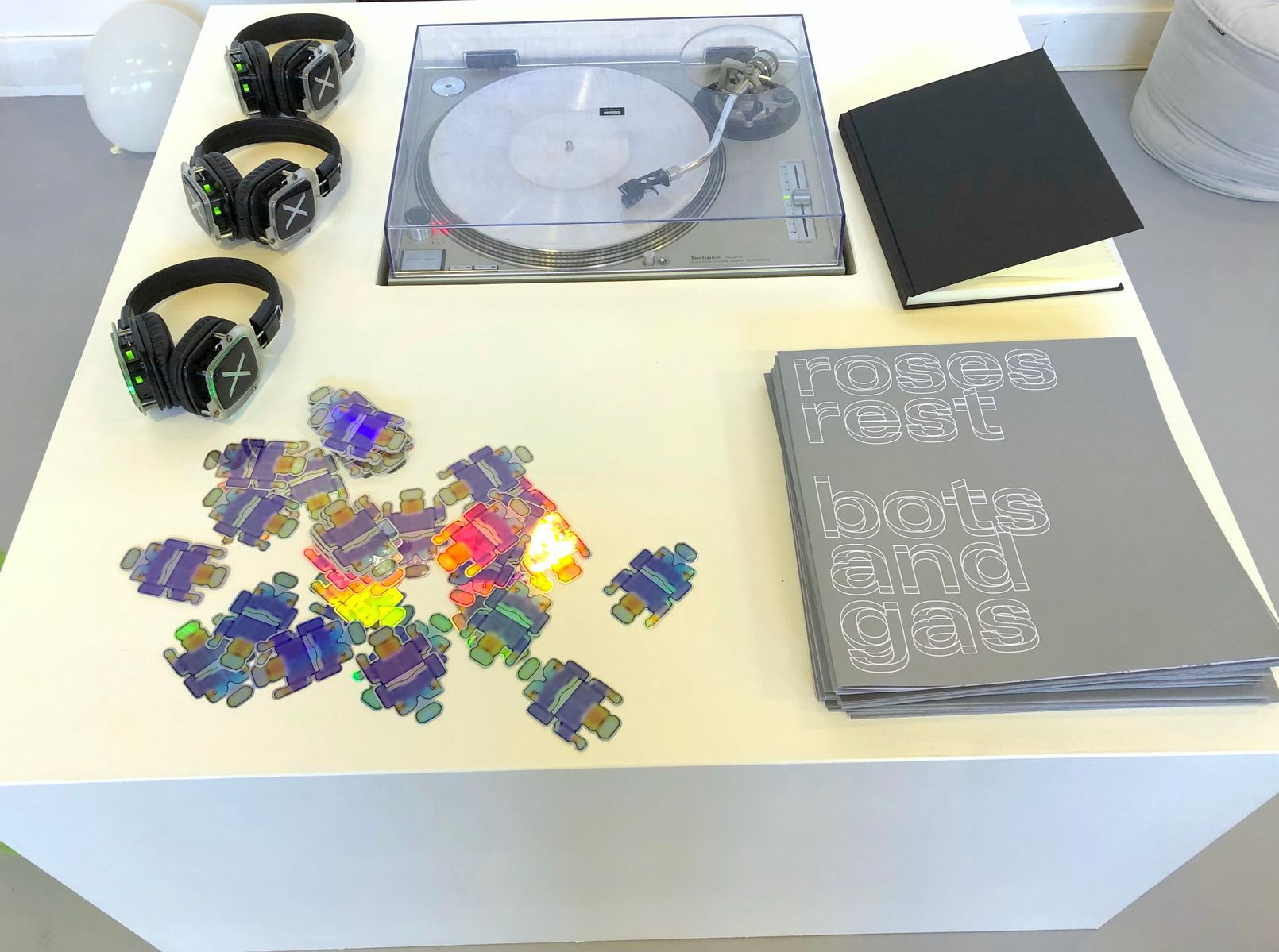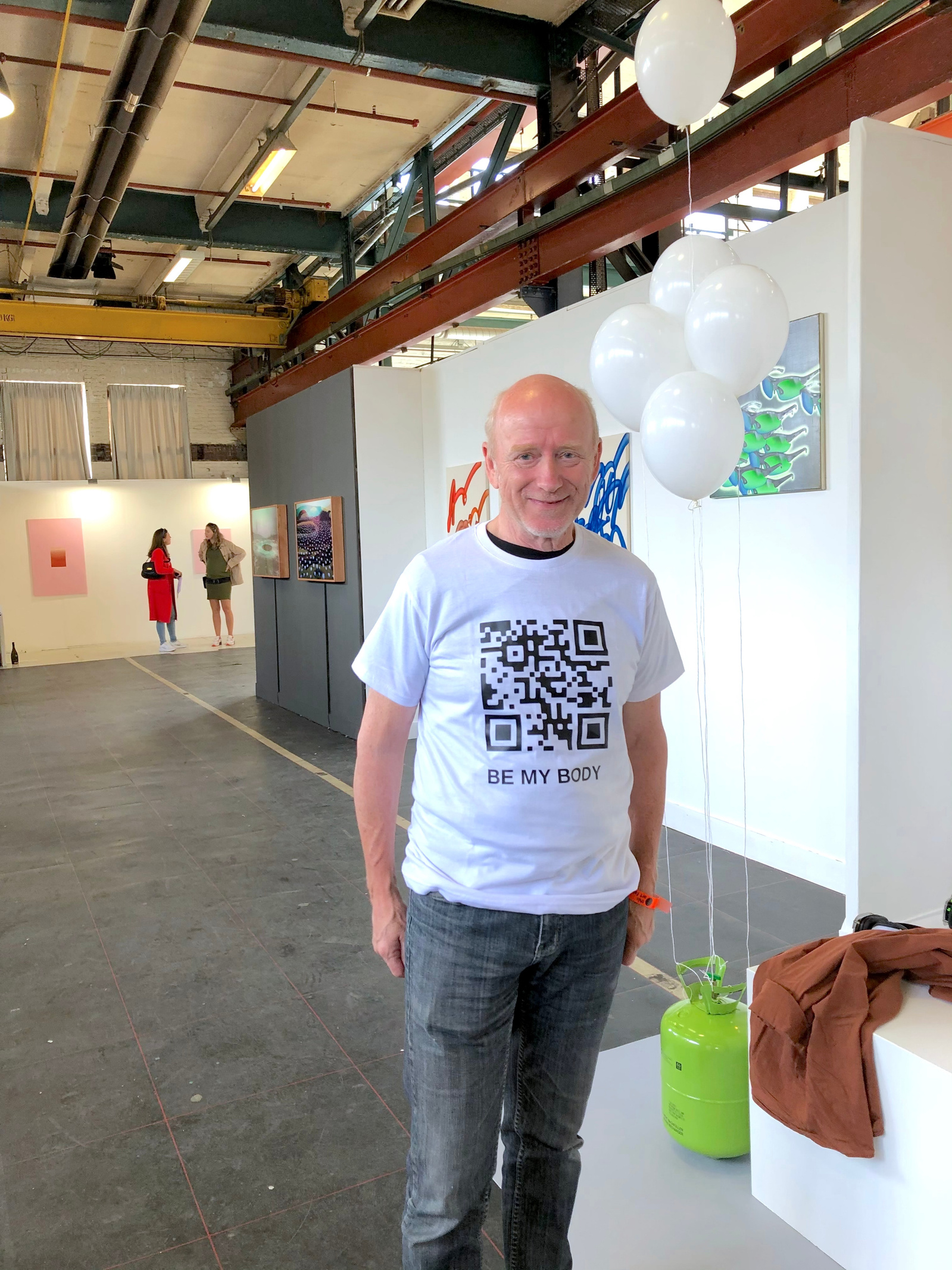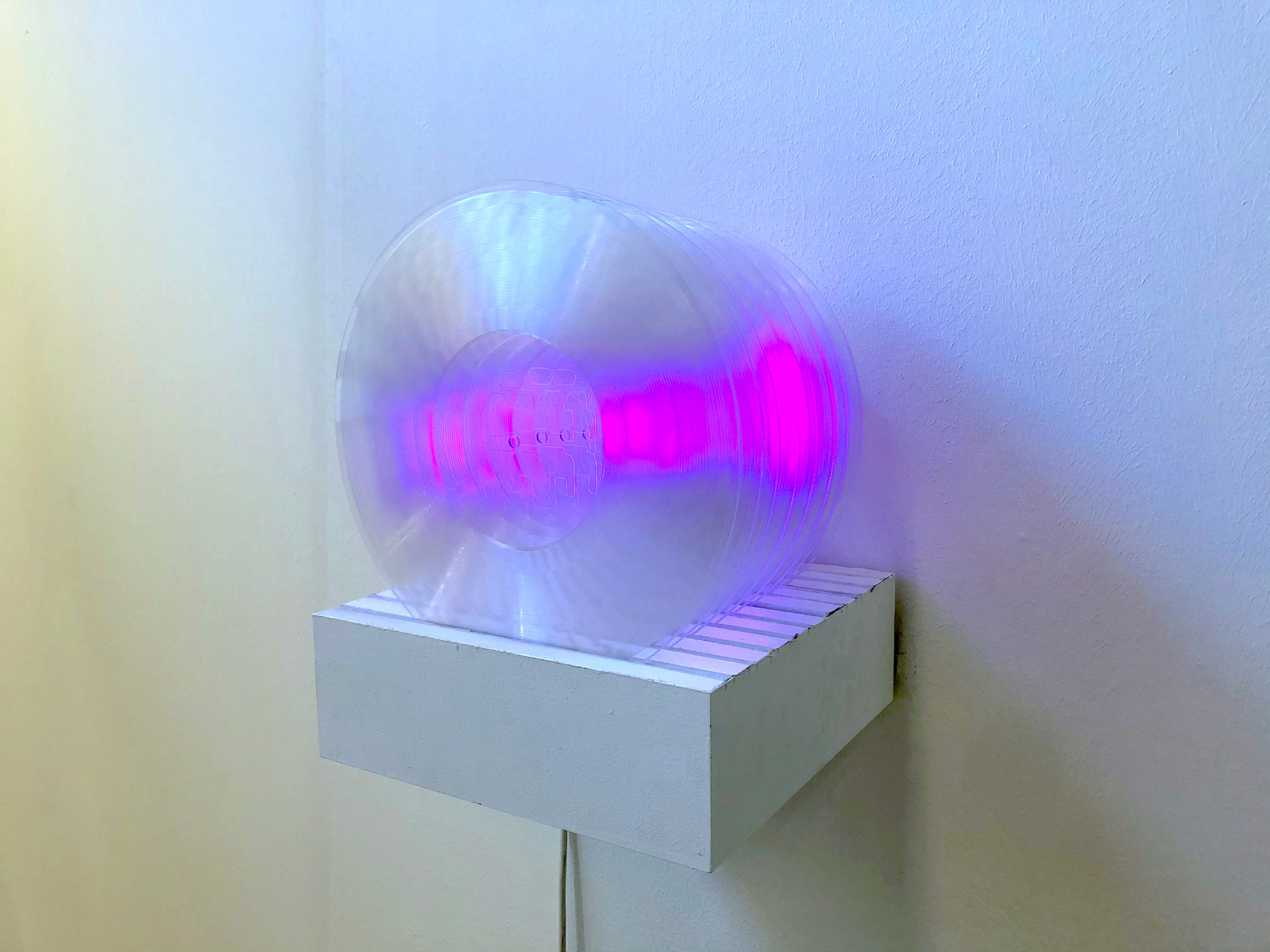 Bots & Gas, Roses Rest, 2021
Bots & Gas is a cross-disciplinary music and artistic project consisting of Alexandros Papamarkou and Mariah Blue. Roses Rest is the debut album released at This Art Fair 2021. The songs have come from channelled sources, automatic writing, Ouija board and text writing algorithm. Following the whims of channelled material and leaving song writing to chance results in a musical blend of styles and genres. The record interweaves experimental pop, dance music, multi-layered (choral) a cappella singing, spoken word and even a ballad written by a nineteenth century ghost. In this work, alternative 'technologies' are used in a generative way to uncover new combinations and possibilities. By using the Ouija board as an alternative knowledge seeking device (unlike google) to generate song lyrics, we are searching for paradox within definitions of technology and indeterminate methods for knowledge discovery.
Potluck, 2021, Gallery 17717, Seoul
A group exhibition by the artists, Mariah Blue, Kathrin Graf, Lana Murdochy, Younwon Sohn, and Amy Winstanley, exploring what it is to come together and exchange ideas, culture and create bonds of friendship over the sharing of food, space and landscape at a time when the artists can't physically be together. The exhibition included sculpture, painting, YouTube video playlist, a collaborative video, and also saw the launch of their publication What thoughts think thoughts.
The exhibition is funded by Seoul Metropolitan Government and Foundation for Arts and Culture.
Potluck is a collaborative video by the artists. It was filmed on the Scottish Isle of Lewis where they shared a house, meals, and conversations. The video examines topics of entanglement, nature, technology, silent space and friendship in relation to a society striving for optimization.

All footage was filmed with mobile phones originally to document our trip together. The idea to make a video came later.
Link to video (excerpt 3:35 min of 13:03 min):
What thoughts think thoughts
A riso printed book of images compiled by the artists, Mariah Blue, Kathrin Graf, Lana Murdochy, Younwon Sohn, and Amy Winstanley, designed by Alex Walker and published by Print Art Research Centre, Seoul.
The pages are bound with an elastic band, allowing the book to also function as a collection of separate prints. The cover displays an index and descriptions of the works written by the artists in English, Korean and German.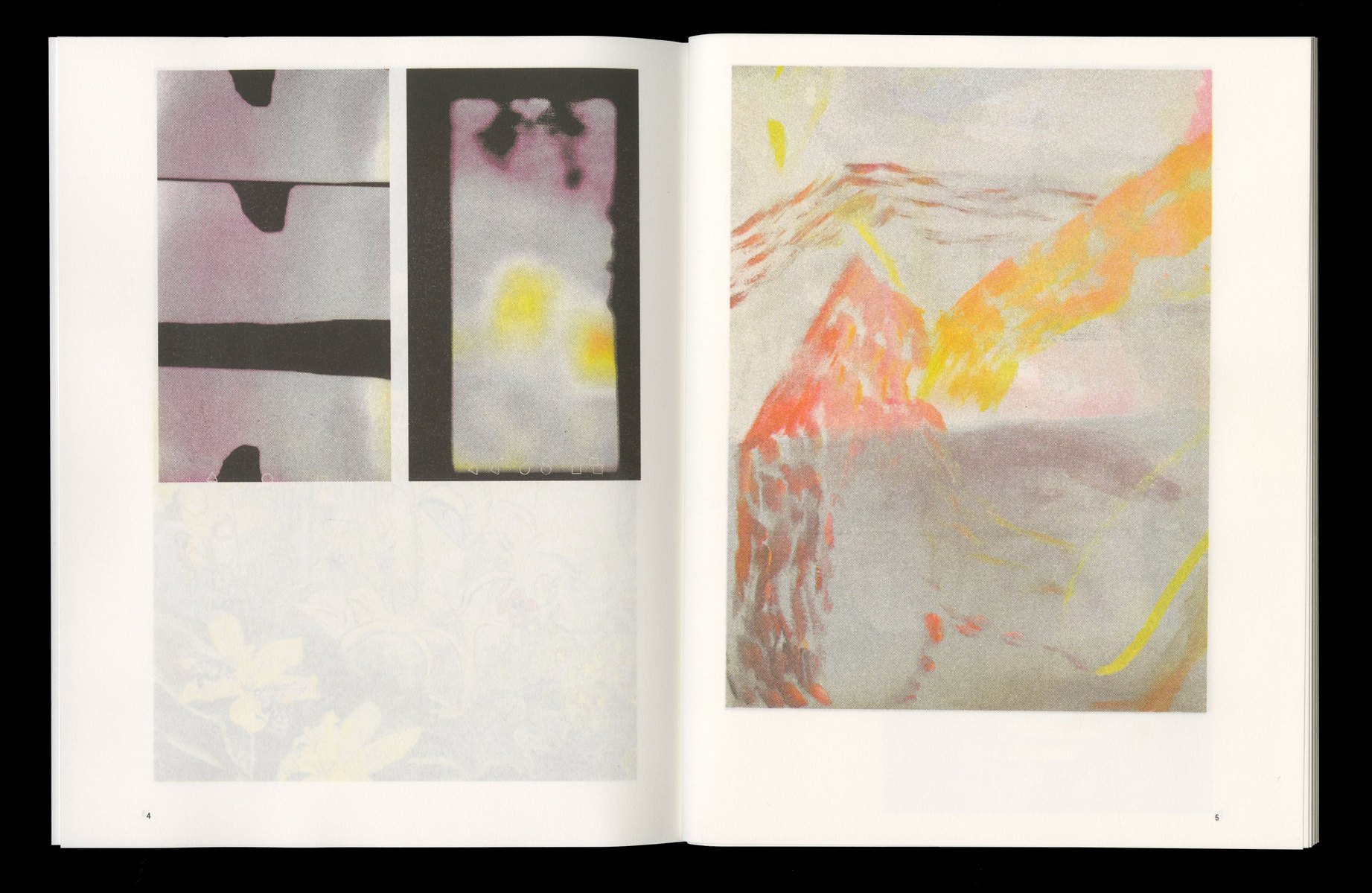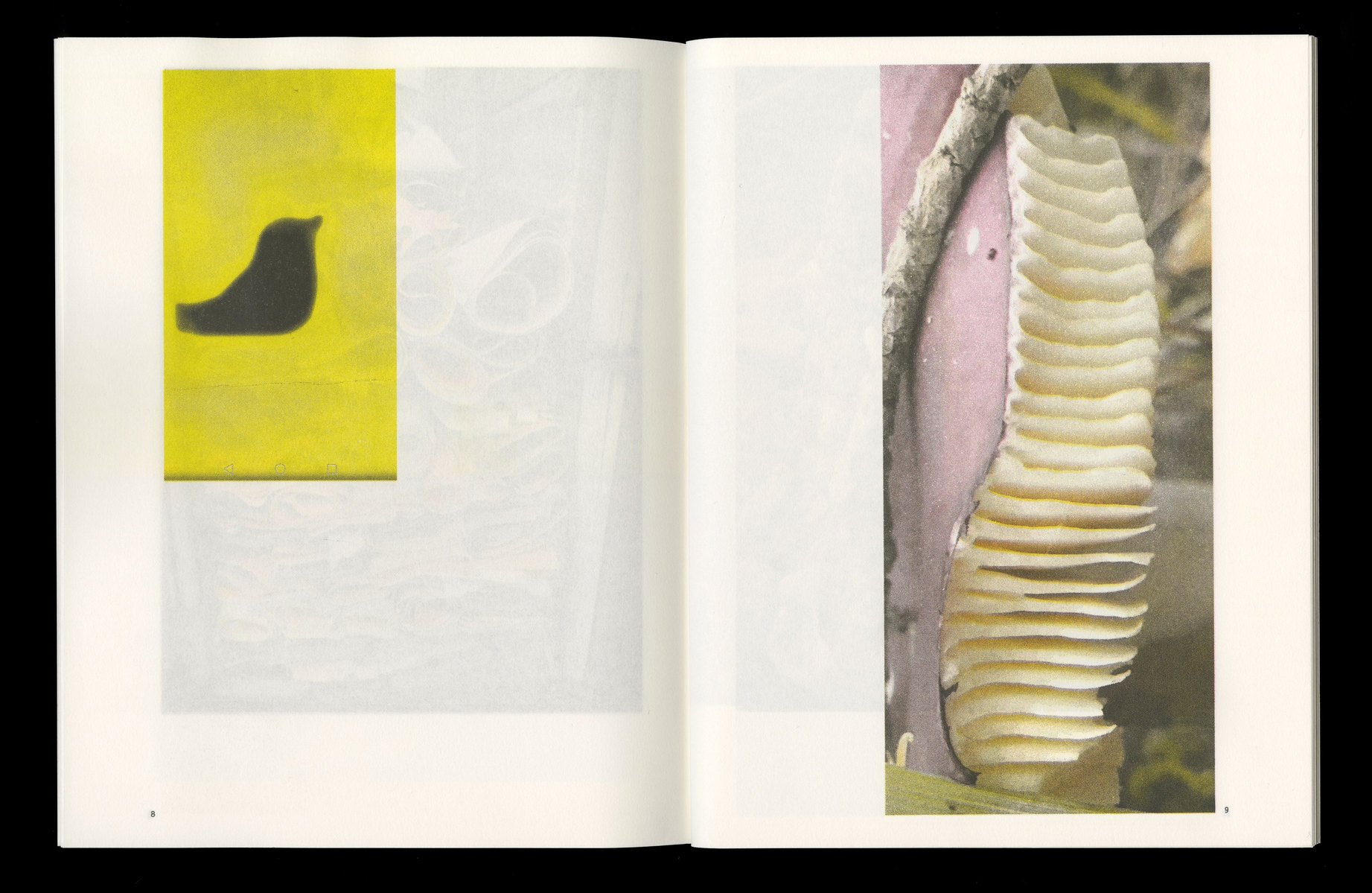 Looking For the Pixels
I zoom further into the screen of my smartphone, looking for the pixels. Every time I get closer I take a screenshot. My camera's image processing algorithm blurs some parts of the image, sharpens other parts and it corrects the color. Rather than the photos becoming more abstract, the collaborative decision making between me and the camera creates strange and otherworldly forms.
Google Translate Poetry, 2020
In a collection of found poems, Google translator camera app is used to instantly identify and translate images into text from a mobile camera. The translated texts are read out loud and recorded on a video. Street signs, building logos, and even the random patterns seen in tiles and skyscraper windows are translated. These poems are sometimes nonsensical strings of words or syllables and sometimes reveal more complex word combinations, relating to mundane, philosophical, or even spiritual subject matter. The work playfully challenges the capabilities of Optical Character Recognition (OCR) and translation systems, exploring their creative possibilities when confronted with simple everyday provocations. This work has been exhibited in 2021 for the Digital Program, Flash Fictions: Alternative Networks with the London based Photographers Gallery.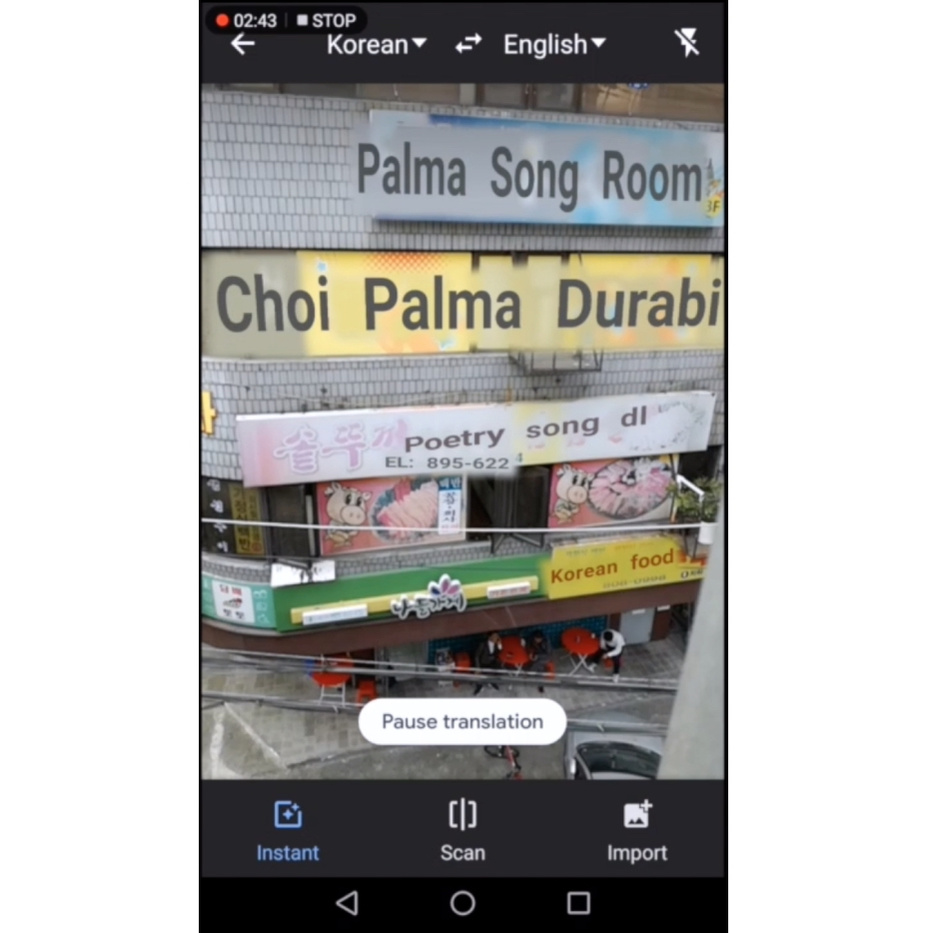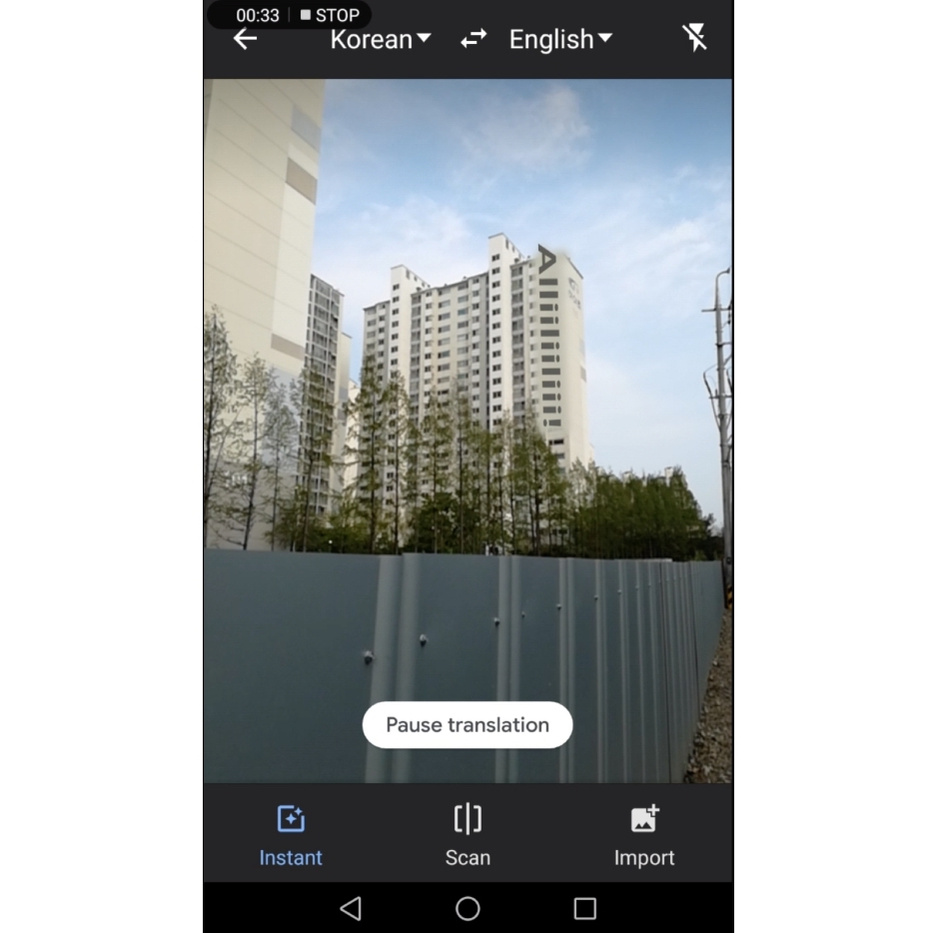 What ties ties, ties
A collection of essays by Mariah Blue, Kathrin Graf, Lana Murdochy, Younwon Sohn, Amy Winstanley
What ties ties, ties is a book created by five artists of different nationalities, backgrounds, ages, and gender identity. This book is tied by 'Doubt', a short story about questioning perceptions of the world by Scottish painter Amy Winstanley (b.1983), 'Call Us by Our Names', poems that are a collaboration between Mariah Blue (b.1977) and a machine learning algorithm, 'Housewarming, Dear Ghost Ants', an invitation essay about house, creature, and future scenery by Korean artist Younwon Sohn (b.1990), 'Tadpoles', a short coming of age story exploring friendship and imagination of young women by Scottish-Kurdish artist Lana Murdochy (b.1995), and 'Moving Matter', an essay on exploring the relationship between feelings and the design of surfaces by German sculptor Kathrin Graf (b.1984).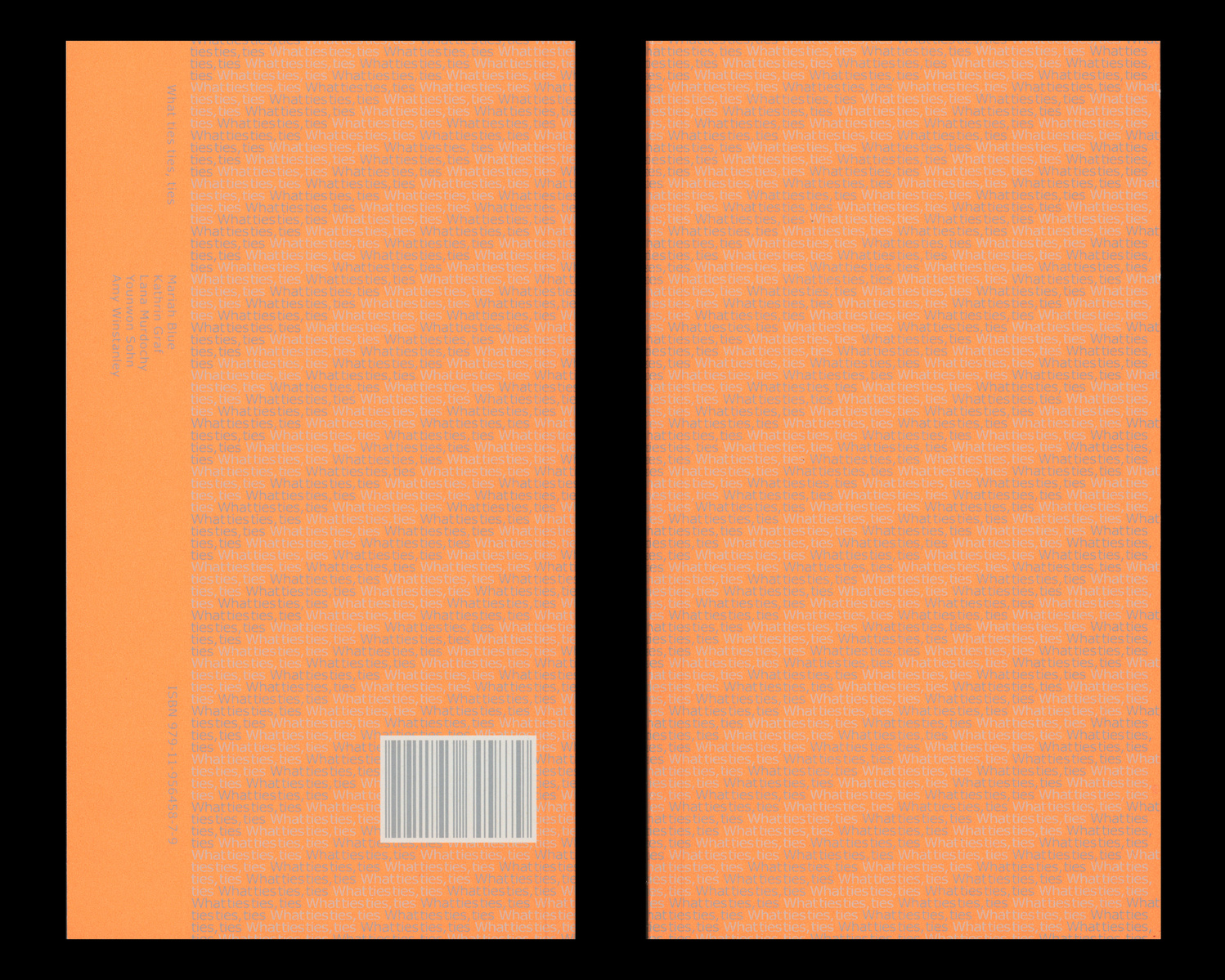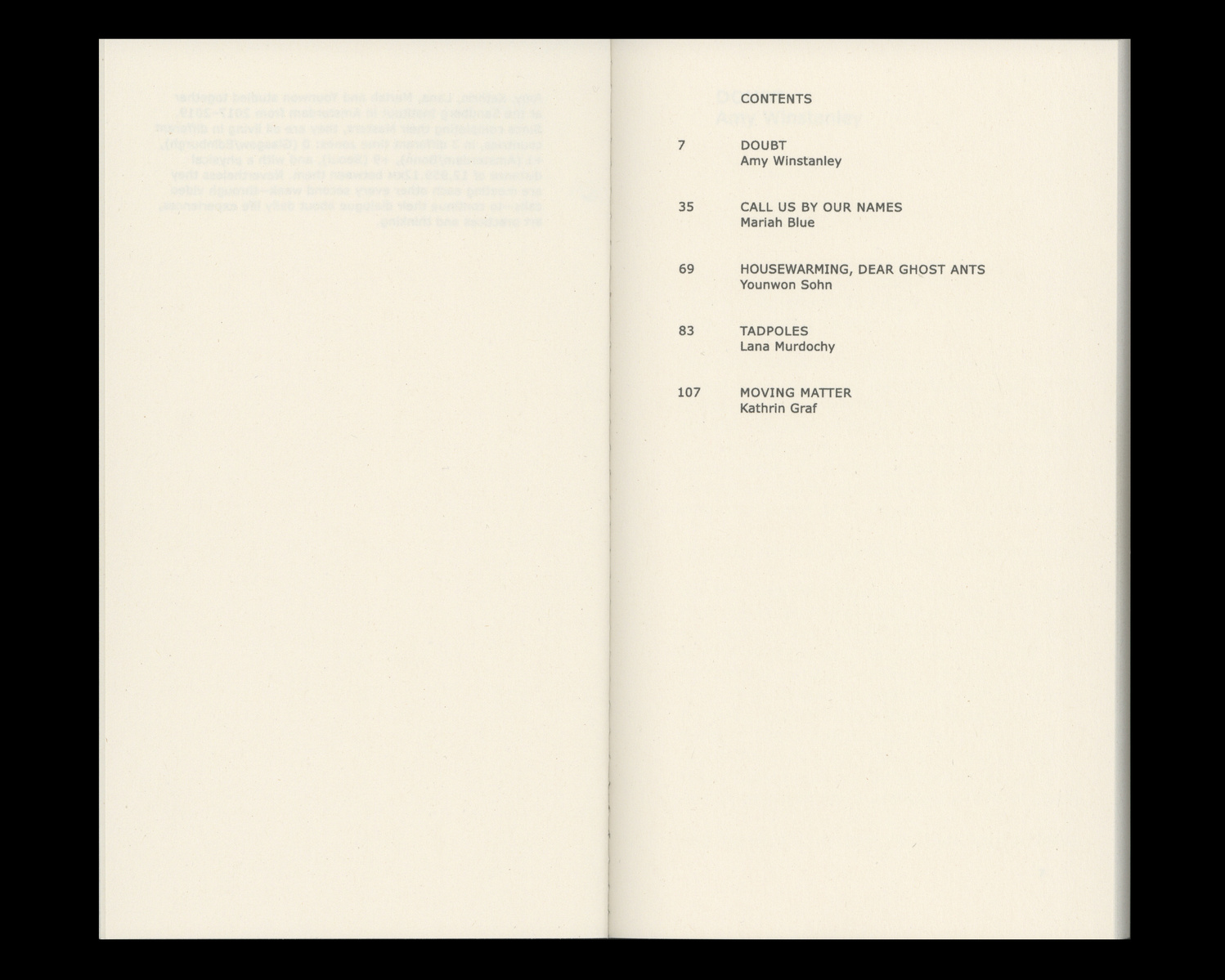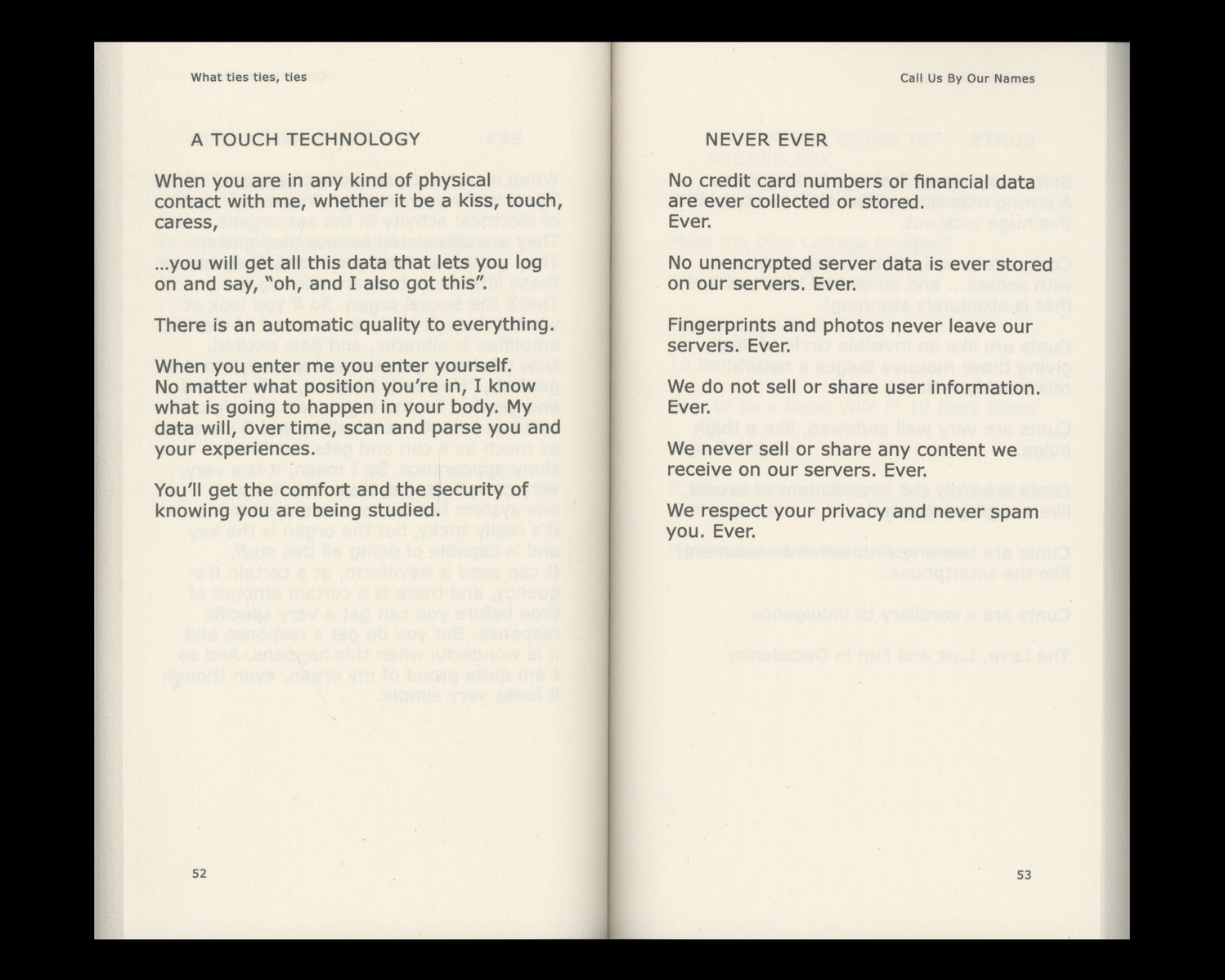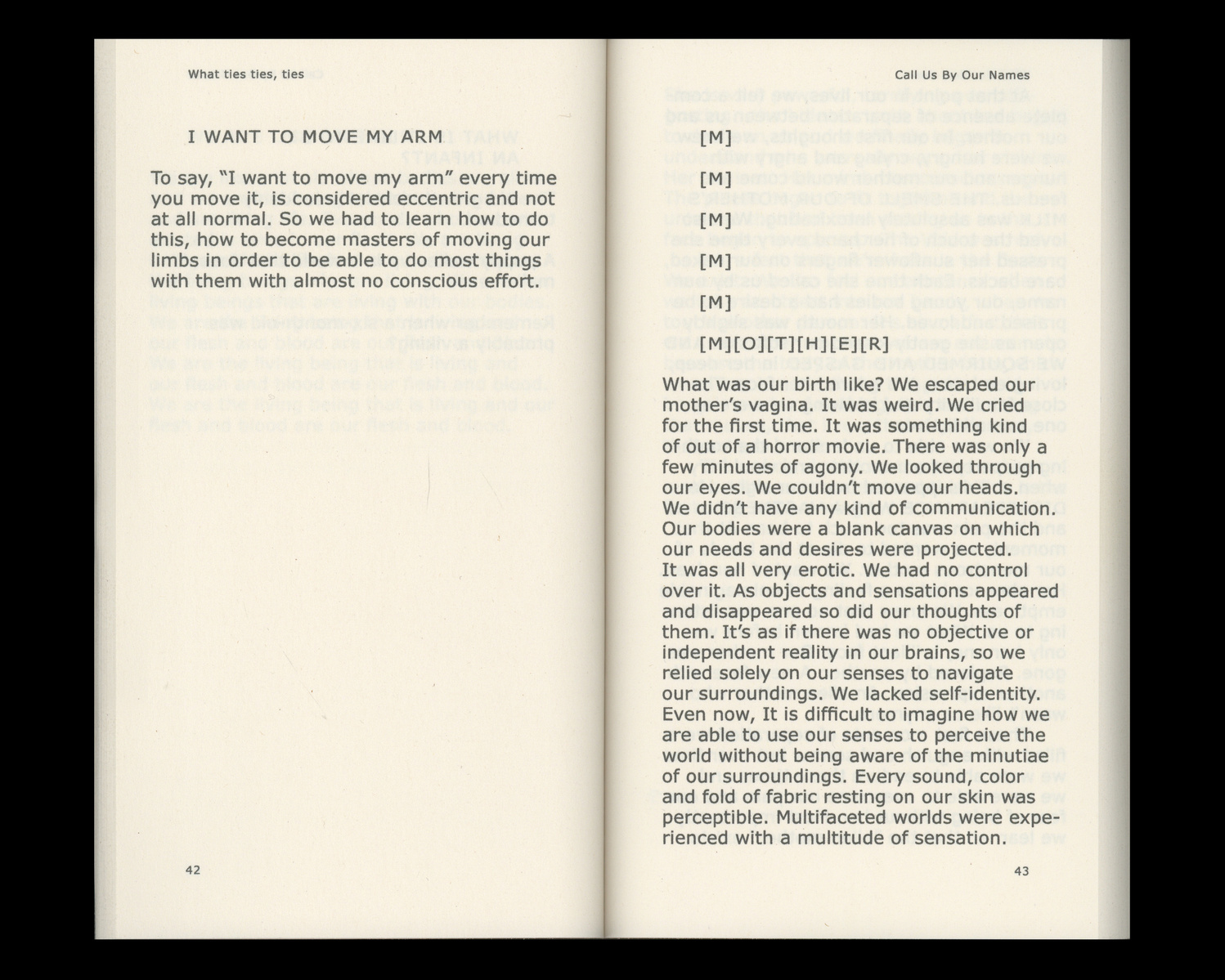 Sonic Meditation: Vibrational Bodies
In a collaborative sound performance with artist Tina Reden, we discovered the sonic possibilities of ceramic coil pots as natural speakers — think of the sound produced by a sea shell when held to the ear. The varying shapes and sizes of the hand built coiled pots create varied tonalities depending on how they are interacted with. These ceramic coil pots were made using similar techniques to those used since the stone age. We imagine alternative uses for technologies and play with the distinctions between hi and low tech by plugging in these stone age pottery vessels and using them as musical instruments.
SleepeelS
Fictional persona, SleepeelS, uses Youtube's Creator interface as a medium. In her live performances, she co-opts the digital devices of her audience through the Youtube platform. A cacophony of echoes can be heard in the room as phones playback her performance at differing stream rates. These echos are fed back into her computer mic and broadcasted again, creating a sonic feedback loop. Eventually all speech is drowned out by the intensifying reverb.
The Youtube algorithm is designed to selectively choose extreme content in order to captivate the attention of its audience. A feedback loop occurs between viewer and algorithm where ideologies become polarized in a self-fulfilling echo chamber of ideas. SleepeelS hopes to someday be an influencer of the Youtube algorithm.
Domestic Work Algorithm
These works examine the exploitative relationships between labor and digital platforms. I use my employee work data to create digital tapestries.This data is collected from my "day job" with the domestic labor platform Helpling, a digital platform described as "Uber for housekeepers." The tapestries are created by a similarly exploitative online platform which outsources weaving to the lowest bidder.

Algorithmic Drawings
Digital drawings can be made using the language of code. Anything can be used as data and therefor programmed into a drawing.
Symbols are hand drawn in repetitions following an algorithmic equation. The equation is created using dice. The dice choose which symbols will be used within the drawings, how many times they will be repeated, what order, and the colors which are used. The drawings can be hand replicated once an equation is formulated.